30 Jun, 2019
Long time ATDDEA member Darcy Flanagan (she has been a member for the past 10yrs since she was 4yrs old) has travelled to SEQ to attend the 2019 State Youth Dressage Championships at QSEC (Caboolture) this weekend.  This is the 2nd year Darcy has taken her ponies Benjaylin Flirtatious (Molly) and Mithril Surad (Radar) to the Youth Champs.  Darcy and her ponies will also be travelling to Maryborough for the State Interschool Equestrian Championships 3-6 July and the Townsville Dressage Club Winter Championships on 13/14 July.
 It takes a lot of organization for a trip of this magnitude.  Darcy and her Mum Karen (and trusty pup Gordon) left Cairns on Monday and spent 3 days travelling to QSEC.  Ensuring the ponies travel safely and arrive fit, sound and in a good frame of mind is very important.  The ponies safety and comfort comes before the human needs.
 Darcy and Radar are competing Official Pony Prelim and Novice as well as the Open Novice Freestyle.  Darcy and Molly are competing Official Pony Elementary and FEI Pony (which includes two FEI Pony tests and a FEI Pony Freestyle).
 Despite the wet weather in SEQ and the revised draws (due to outdoor sand arenas been a bit "swampy")  Darcy and the ponies are all set to go tomorrow with the first test at 8.54am for Darcy and Radar.  Darcy will be riding 5 tests each day.
 Darcy and her ponies would not be at QSEC without the support of ATDDEA in allowing her to ride the FEI Pony tests and be judged and get valuable feedback from the judges at the June ATDDEA competition last weekend as well as the support and encouragement of the ATDDEA committee and fellow members, her coach Erin Flanagan and visiting coach Natalie Ciaparra, sponsors Guardian Horse Products, Rosehip Vital, Horse ShednBed and Crystal Cascades Horse Park.
 Darcy also receives significant encouragement and support from Geoffrey McLean (Gone Riding Media and Consulting).  Geoff is also the Official Photographer for the 2019 Arnage QLD Youth Dressage Championships and it was fantastic to see a familiar face this morning.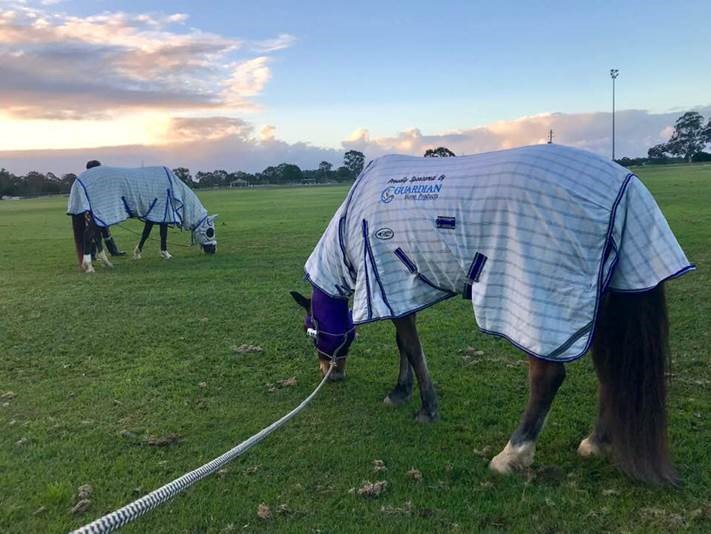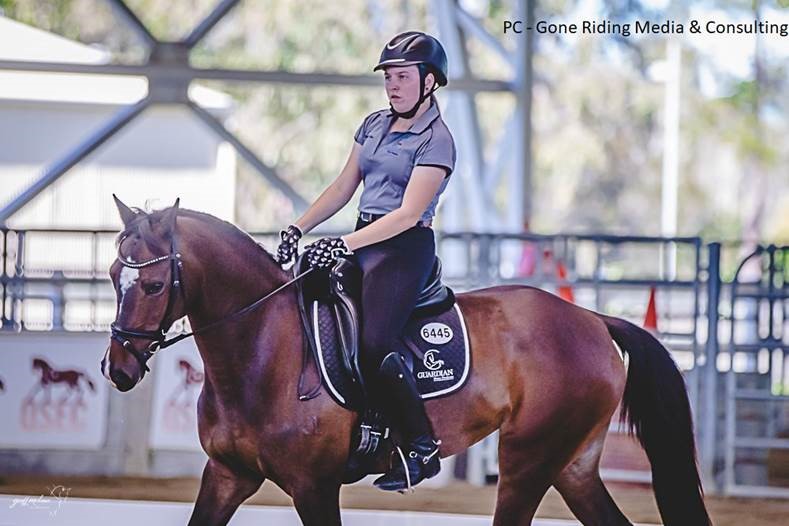 2019 Arnage QLD Youth Dressage Championships -QSEC 29/30 June
QSEC at Caboolture was a tad wet/muddy when we arrived on 26 June which meant an adjusted draw as the outdoor sand arenas were more suitable for water sports than dressage.  Big thanks to Anita Barton for the long hours she put in redoing draws and volunteers lists over the weekend.  Also thankyou to the rest of the Organising Committee, Sponsors, Judges, Stewards, Volunteers and riders and their families for their hard work and making those of us from the north feel so welcome.  Over the past 4 years we have travelled regularly to SEQ and whatever the competition or the venue the same friendly faces are there time and time again and it is magic how our long distance relationships develop and continue to grow.
 Darcy and her welsh pony Mithril Surad rode well in their Pony Preliminary tests placing 4th overall in the Preliminary Pony Championship.  The Novice was a different story with them placing 3rd in the 2C and then late in the afternoon they placed 10th in the 2B.  Radar definitely thought he should be in the stable having dinner rather than doing his third test for the day (had Novice freestyle in between).  C judge was having a giggle at his "exuberance" and deemed him a "little naughty".  Would love to post some photos of this test but I am not allowed to!!!! This "performance" meant they placed midfield in the Pony Novice Championship. 
They rode a decent Novice Freestyle in the Rosehip Vital Main arena and placed 3rd in the Open Novice Freestyle.
 Darcy and her mare Benjaylin Flirtatious stepped out of their comfort zone and competed in the FEI Pony Tour Championship.  This involved 3 tests FEI Pony Individual, FEI Pony Team and FEI Pony Freestyle.  Big thanks to ATDDEA who allowed Darcy to ride the FEI Pony Individual and FEI Pony Freestyle tests in front of the judges at the ATDDEA June competition so that she could receive feedback on the tests.  Darcy is very thankful for the support of the ATDDEA club and committee in her endeavours.  Darcy and Molly placed 1st in the FEI Pony Individual test, 2nd in the Team test and 1st in the FEI Pony Freestyle resulting in them winning the FEI Pony Tour Championship.
 Darcy and Molly also competed in the Pony Elementary Championship and placed 3rd overall.Our team then packed up the next day and headed to Maryborough for IQ State Equestrian Champs.
 2019 IQ State Equestrian Championship – Maryborough 3-6 July
 It was a short trip to Maryborough from QSEC, for which the ponies were grateful.  We camped with the Townsville mob (Franzmann, Bannister and Blackwood families) and also caught up with the Boland family from Roma and the McMahon family from the Gold Coast.  Darcy met Brooke and Danielle at SIEC at the 2016 Interschool Equestrian Nationals and they catch up every year at State IQ and Youth Champs, as well as keep in regular contact.  This is one of the great benefits of travelling and broadening your horizons.  So many nice horse crazy people to meet up with!!!!
 Maryborough was a bit wet and wild with some wind gusts up to 50km/hr.
 Darcy and Mithril Surad placed midfield in the Secondary Intermediate Preliminary and Novice Championships.  The conditions put the "wind up him" a bit (especially when the arena letters were blowing over as they cantered down the long side during one test).  Whilst Darcy wasn't that impressed the spectators thought he showed such "personality".  Again, no photos of the "high jinks" allowed!!
 Darcy and Benjaylin Flirtatious were a lot calmer despite the weather and took out 5th place Champion in the Senior Intermediate Novice (which means they are reserve for the QLD Dressage team for Nationals in Sydney in October) and placed midfield in the Senior Elementary Championship.
 Despite Darcy's rides bring finished on 4 July we stayed at Maryborough for the remainder of the Champs in order to volunteer and give the ponies a bit of a break as they had competed 18 tests in 6 days.
 We are currently in Townsville with Darcy and the ponies competing at the Townsville Dressage Club Winter Championships at Alligator Creek Pony Club this weekend.  We are staying at a lovely privately owned property just down the road and the ponies have been enjoying paddock life again (rather than stables) and Darcy and I a 2 bed granny flat (rather than the float).
 Darcy will be competing Radar in the Official Prelim and Novice and the Novice Freestyle and Molly in the Official Novice and Elementary and Elementary Freestyle.  Apparently TDC are "live streaming" the freestyles on their FB page from 2.30pm Saturday – so check it out.
 Then it's pack up, load up and head off early Monday to arrive home 3 weeks after our adventure began.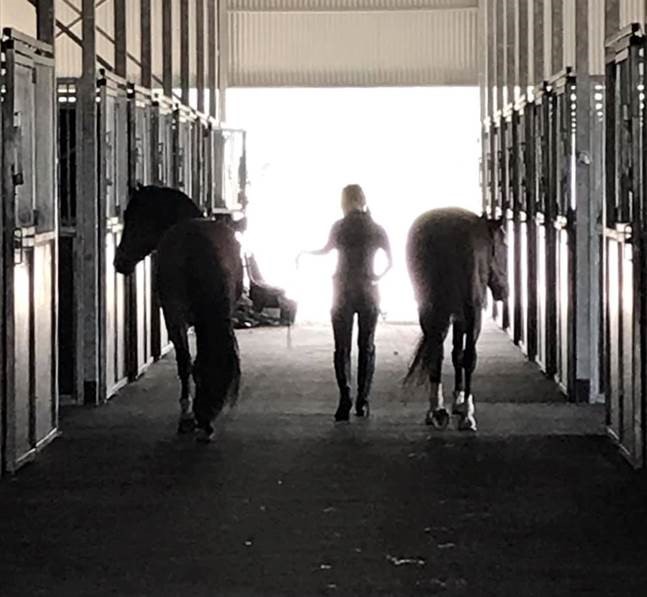 Townsville Dressage Championships
 So proud. Darcy and Benjaylin Flirtatious- TDC Official Competitive Novice and Elementary Champions and Elementary Freestyle Champs
 Darcy and Mithril Surad Midfield in the OC Prelim and Novice (great %)!!
 Thanks to the Committee, Judges, Sponsors Garrards Horse and Hound, riders and their families for your hard work and friendly welcome.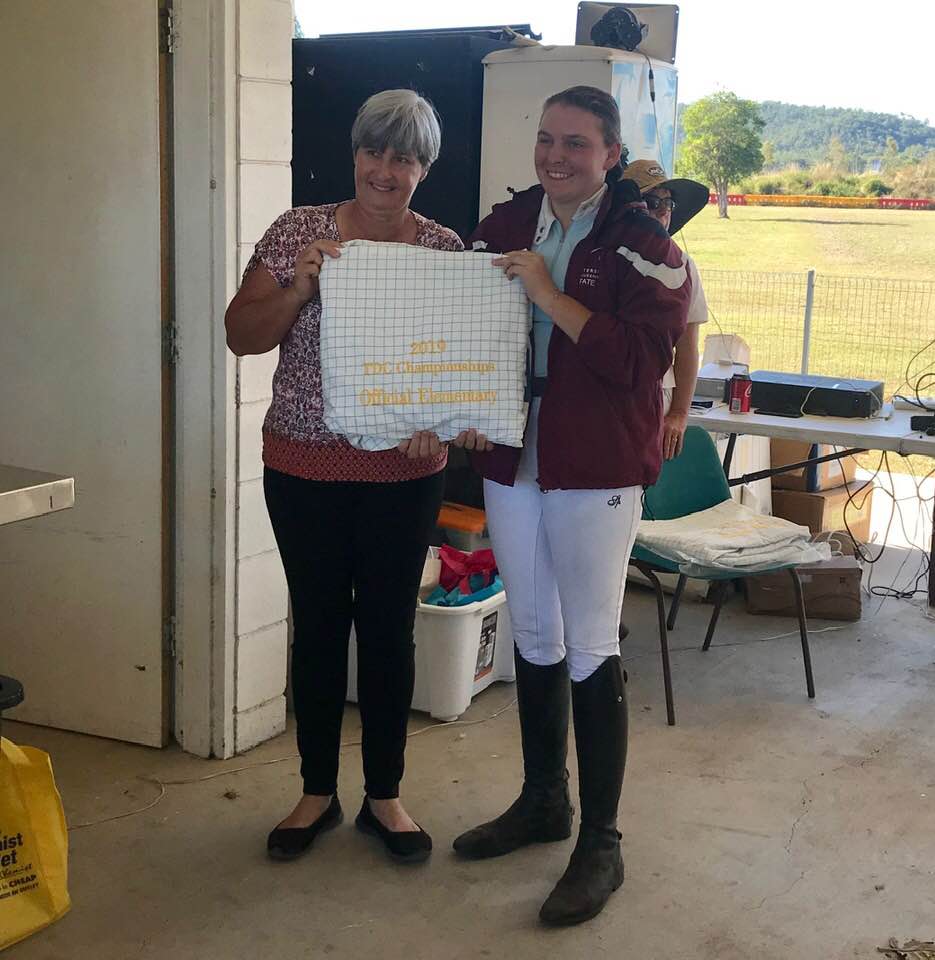 Share on: